First, a Thanksgiving feast. Then, to the emergency room states Dr. Thomas
Louisville, KY – Holiday gatherings are fraught with peril.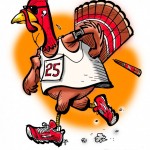 • The average Thanksgiving meal is 3,000 calories (229 fat grams) according to the American Council on Exercise.
• Alcohol consumption is heavier-than-usual.
• Frantic travel agendas often result in forgetting to pack medications.
• A houseful of diverse personalities creates stress for the host family.
"Overindulging, traveling, and the stress of entertaining has health consequences," said Bradley G. Thomas, M.D., a member of the Society for Vascular Surgery®. "After Thanksgiving dinner, hospital emergency rooms brim with overstuffed and over-served guests."
Heavy alcohol consumption can trigger a condition known as Holiday Heart Syndrome. This is an abnormal heart rhythm referred to as atrial fibrillation. Persons who experience this condition have an increased risk of stroke.
Heart palpitations, dizziness, shortness of breath, and chest discomfort are stroke symptoms. Most often, stroke patients exhibit one or more of the following risk factors:
• Blood pressure higher than 135/85
• Cigarette smoking
• Alcohol consumption beyond moderation
• High cholesterol
• Diabetes
• Not exercising 30 minutes daily
• High sodium (salt) diet
• Blood circulation problems
The fourth leading cause of death in America, 137,000 Americans died of stroke in 2010 according to the National Vital Statistics Report. "We an increase of stroke patients during the holiday season," said Dr. Thomas. A 2004 study in the medical journal, Circulation, reported that there are five percent more heart-related deaths during the holiday season.
Daily exercise, a healthy diet, not smoking, and a healthy body weight are pro-active measures against vascular disease. Non-invasive tests can screen for vascular disease. Medications can help control vascular disease.
"The holidays are a perfect time to announce to family and friends your decision to cut back on calories, alcohol, and cigarettes," said Dr. Thomas. "Then, invite them to join you on a new Thanksgiving tradition – an after dinner walk."