Vascular Health Handouts
SCA of Louisville, Kentucky is here to help inform you with vascular health information.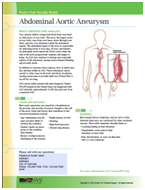 Abdominal Aortic Aneurysm (PDF)
Description: Your arteries deliver oxygen-rich blood from your heart to other parts of your body. The aorta, the largest artery in your body, runs from your heart, down through your chest, and into your abdomen (called the abdominal region). The abdominal region of the aorta is responsible for delivering blood to your legs, GI tract, and kidneys. An abdominal aortic aneurysm (AAA) occurs when the wall of the aorta progressively weakens and begins to bulge. An AAA may continue to enlarge and eventually rupture if left untreated, causing severe internal bleeding and possibly death.
---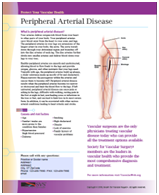 Peripheral Arterial Disease (PDF)
Description: Your arteries deliver oxygen-rich blood from your heart to other parts of your body. Your peripheral arteries carry blood away from the heart to your arms and legs. The peripheral arteries in your legs are extensions of the largest artery in your body, the aorta. The aorta travels down through your abdominal region and branches off into the iliac arteries of each leg. The iliac arteries further divide into smaller arteries and deliver blood down your legs to your toes. Healthy peripheral arteries are smooth and unobstructed, allowing blood to flow freely to the legs and provide oxygen, glucose, and other nutrients that your legs need.
---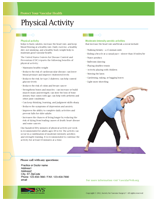 Physical Activity (PDF)
Description: helps to burn calories, increase the heart rate, and keep blood flowing at a healthy rate. Daily exercise, a healthy diet, not smoking, and a healthy body weight help to maintain good vascular health. The United States Centers for Disease Control and Prevention (CDC) reports there are many benefits of physical activity, including maintaining a healthy weight, reduce the risk of colon and breast cancer, reduces the symptoms of depression and anxiety, help with arthritis and other joint conditions, improves the ability to complete daily activities and prevent falls for older adults, and much more.
---